Transformative Power of Lifting Heavy
I start a new job next week which means I have plenty of days off while I consume my remaining leave allowance. That's time off when I'd like to be training, lifting weights, possibly running (only kidding), but as I'm only days away from my first powerlifting competition I'm supposed to be in taper mode.
That just means I'm sitting around thinking about weightlifting and building myself up into a minor panic about the unknown.
To be honest there really isn't much to panic about. This is only meant to be fun, I don't have any goals beyond getting out there and conquering nerves. I would obviously like to get some decent lifts but I don't need to surpass my recent PB's to feel like the day was worth it. Getting out there, getting a score for each lift and enjoying myself will be enough.
When I first announced that I would be entering a powerlifting competition, I listed out a series of bodyweight targets that I wanted to achieve. These remain targets for the year but are not for this meet, which came sooner than I was anticipating. Hopefully I will have another attempt later in the year where I can build on the consistency I've shown so far.
Earlier this week I posted a video of myself flopping at the deadlift only days out from the big day. It's a little anxiety provoking at this late stage to be failing on lifts but its common to start fretting before a significant challenge.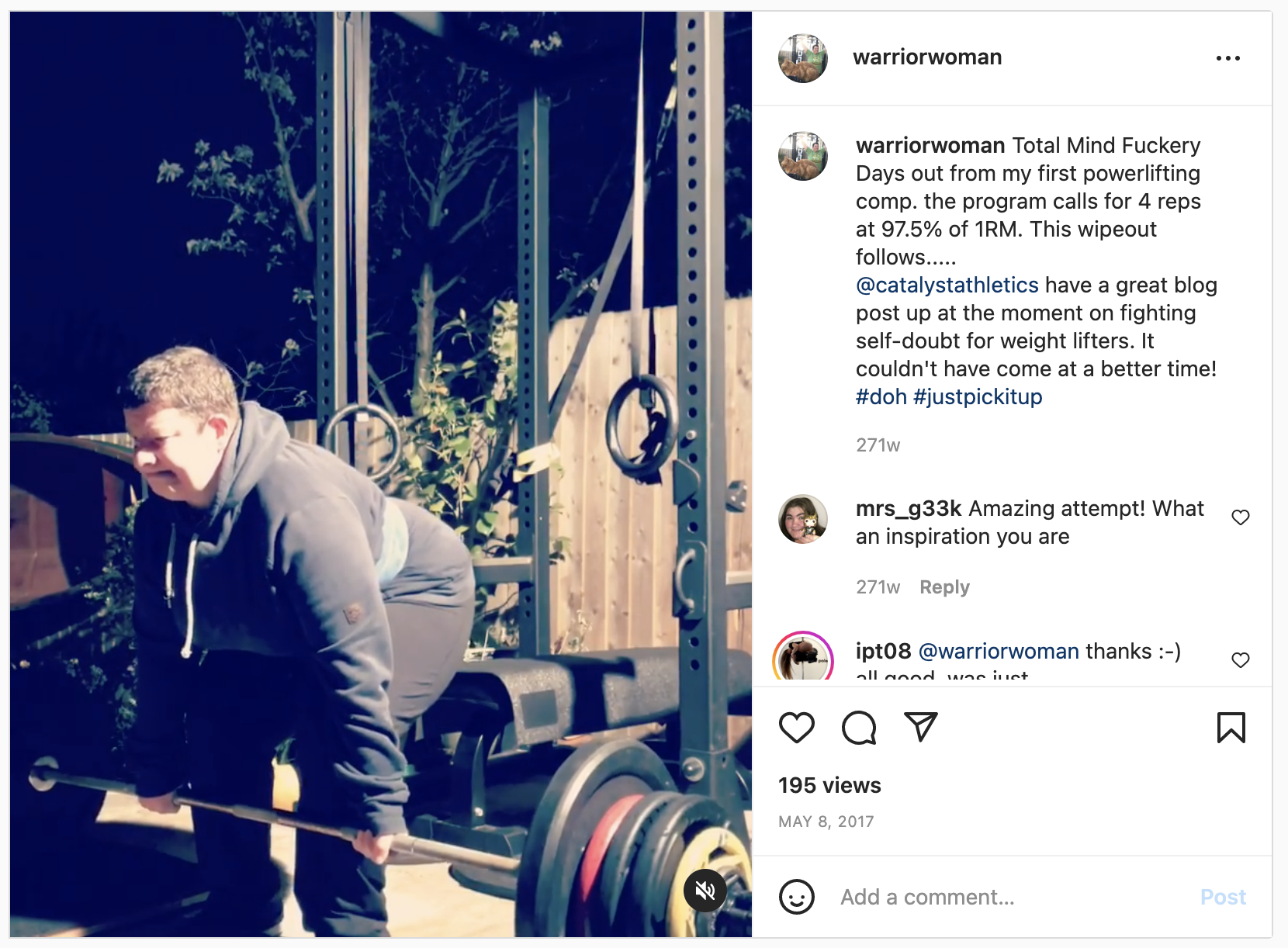 Catalyst Athletics just posted a useful blog on Fighting Self Doubt in Weightlifting – it came at a prescient point.
Just for the sake of balance I thought it was time to reflect on the progress made since I started to lift heavy, rather than dwelling on a weight that steadfastly refused to budge from the ground.
Like many women, I have always, always, struggled with my weight and had crappy self-esteem issues as a result. I've lost weight and I've run thousands of miles in the process, and yet continued to have crappy self-esteem issues.
A few years ago I started a trial program with Julia Buckley which involved lifting heavy dumbbells. It awoke a desire in me to be strong and I soon moved onto the barbell and found myself working with Sally Moss and her Strength Ambassadors crew.
Now that I've accepted the value of consistency, I've started to see some gains and I'm really enjoying working alongside a group of women equally motivated to get god-damn strong. This time last year I was struggling with 80kg squats and deadlifts and I've now added 35kg to both and although we'll find out for sure on Saturday, I think the squats are now full depth unlike my early attempts at going heavy.
In terms of bodyweight, despite some ups and downs I actually weigh the same as I did last year but my body image has improved exponentially.
Now I know this body can lift heavy shit and that makes it alright in my books.