Ankle Fracture Recovery Progress
I broke my ankle at the very end of November when two large dogs running at full pelt, collided with each other and the back of my leg. I pirouetted and crumpled with a crack to my knee followed by another to my ankle. I thought it might be interesting to document my progress and share tips for ankle fracture recovery.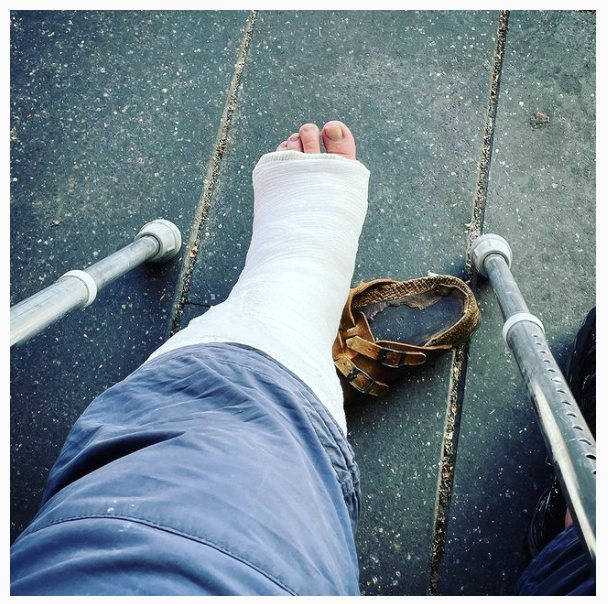 How my Ankle Fracture recovery Progressed
Ankle Fracture – Week 1
Fairly awful A&E experience. So glad we had crutches in the house otherwise I think I would have been on my hands and knees trying to navigate triage.
I got called back the next day to have a weight bearing x-ray as the type of fracture (Weber B) can often be unstable and require an operation to fix it.
After a few days I started adding a daily sauna back into my routine. This isn't recommended officially. The party line is to ice and elevate and to stay away from saunas. I chose to ignore the recommendation as I find the sauna incredibly relaxing and that was / is something I need. I did compromise by staying on the lower level – not that I had any choice, as I couldn't have climbed onto the higher bench anyway.
---
Going Up: ABC (Able leg, Bad leg, Crutch to the same step).

Going Down: CBA (Crutch, Bad leg, Able leg to the same step).

How to manage the stairs with crutches

---
Week 2 – Fracture Clinic
First visit to the fracture clinic this week. Another weight bearing x-ray showed the Weber B fracture was still stable so I persuaded the clinician to agree to a boot. He was going to put me back into a cast but thought made me claustrophobic and I was determined to be able to mobilise the joint early on.
This article supports the idea that you can get a faster functional recovery using walking boots over casts.
The visit to the FC was exhausting as there was so much hopping to be done. I managed to find the most opportune entrance to be dropped at but then I discovered I should have been put on anticoags from day 1 so then had to hop to the pharmacy in main reception. May as well have been 5 miles away.
In the boot now and so grateful as it means I can take it off in the evening and watch telly with my feet elevated. I could wash my foot too which was an absolute necessity after 4 days! Buggering hot those things.
Still unsure whether to keep weight off entirely or try a bit of crutch supported walking. I opted for the latter.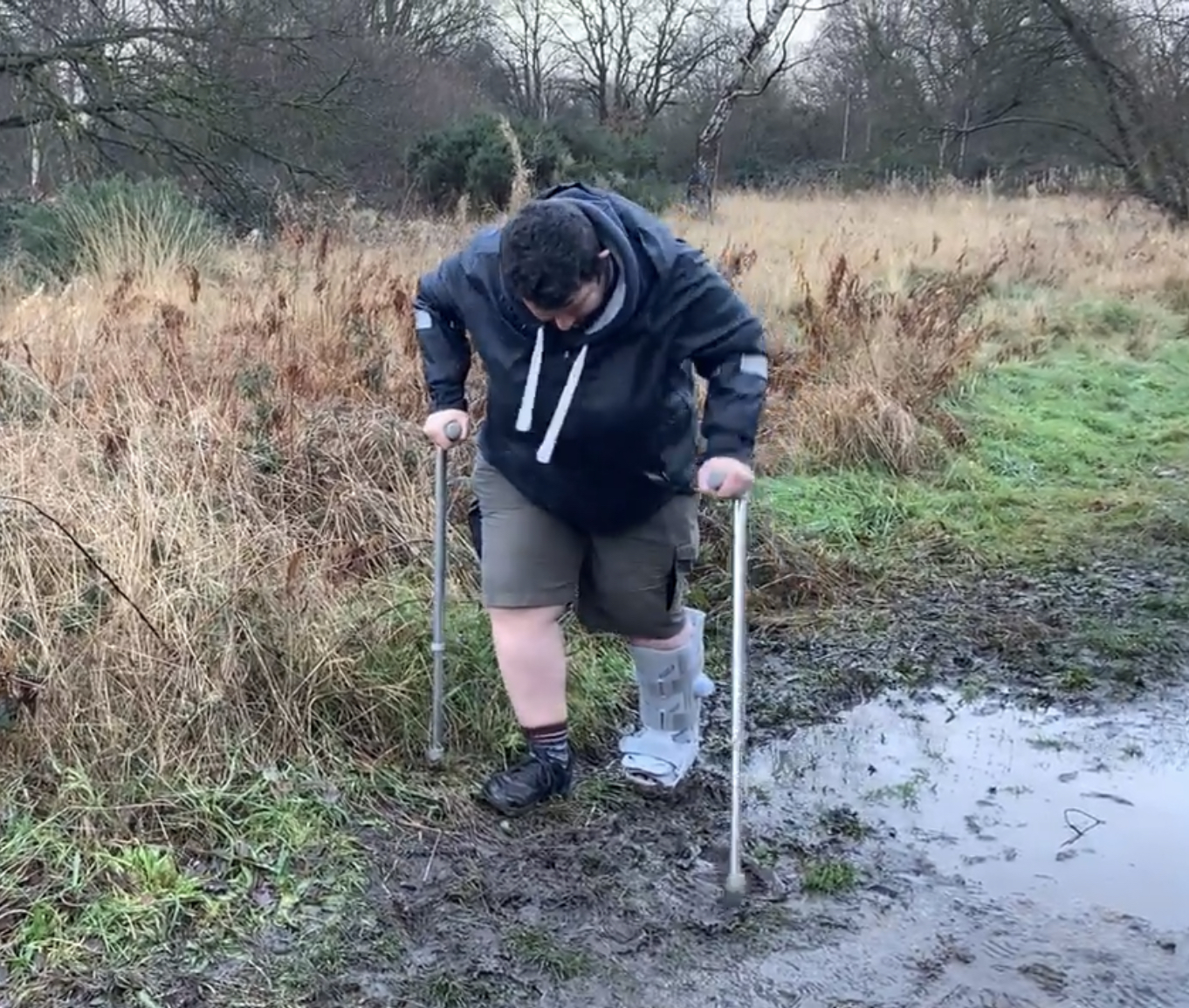 Week 3 – bathtime
The swelling in my leg decreased but my ankle started to look odd. I was worried that maybe I had done too much walking and shifted the fracture. I contemplated trying to get another x-ray but decided to just chill out and see it as a result of the general leg swelling going down.
Managed to get myself in the bath from week 3. Initially I stepped into the full bath with my boot on (no liner) then removed it for my soak. I'd then empty the bath, replace the boot and get myself out using the good leg and some tricep power to push myself up. My wrists weren't quite up to the job after weeks of crutch pressure so I stabilised them by wrapping with floss tape which made them pretty solid.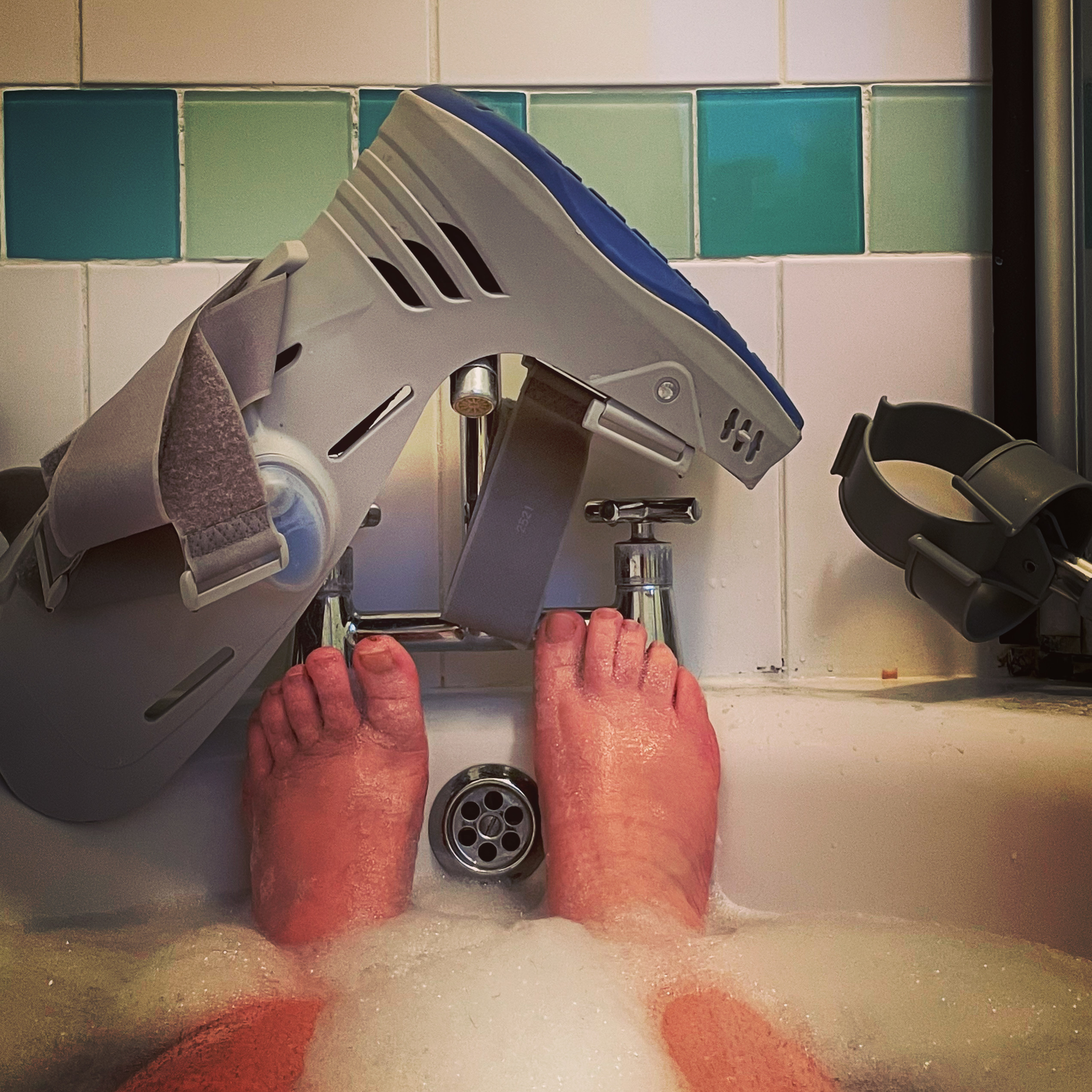 Week 4 – QiGong
I discovered seated QiGong this week and started channeling my recovery life force. It was nice to move again and have some mobility focus in the day.
Week 5 – Callous growth and Peloton
Back to the fracture clinic to get an update on my ankle fracture recovery and thankfully there was good news from the x-ray. Signs of callous growth was visible on the edge of my bone which showed that the fracture was knitting together. The doctor gave me the go ahead to start gradually increasing weight bearing while listening closely to my own body. I really appreciated that approach as I like to be in control of my own destiny. I checked whether I could start some resistance band exercise and also whether a realistic trajectory would be for me to walk into my next appointment in 4-6 weeks without boot or crutches.
All confirmed but with the emphasis on me listening closely to what my body was telling me.
I intended taking things super slowly until week 6 as I'd read that was a point when significant callous growth could be expected but having taken my boot off to try standing with just the crutches, I was alarmed how light and cloud like my calf felt. I began to feel concerned that I would never be able to walk again, never mind walk unaided within 4 weeks.
My calf had obviously withered. Next plan of action was to resume my paused Peloton subscription and pop myself back on the bike for some low intensity rides. So from about 5.5 weeks post fracture I started doing daily 15-20 min stationary bike rides. Which gave me renewed confidence in my ability to recover.
How to use a Peloton with a Broken Leg
The way I got on the peloton was to have the shoe (injured side) clipped to the bike with all fasteners and straps loosened. I stood in the boot while clipping good side to pedal and stepped up and out of the boot. I then positioned the pedal, applying the brake so I could slip my injured foot in the shoe. A gentle rotation proved to be comfortable so I took it for a spin. I never stood during a ride to protect my ankle from excessive pressure but of course that meant the pressure was felt in the saddle area instead!
Week 6
More and more time spent out of the boot using crutches only. Still doing daily peloton sessions for 20 mins. Each day increasing the effort and distance recorded as my confidence grew and I got stronger.
Week 7 – Look no boot
Started moving around the house without boot or crutches. I started with a noticeable limp and an increasingly tight calf muscle. I worked on using the stairs normally, albeit with use of the hand rail.
Very early in week 7 I decided I my ankle fracture recovery was complete and took the dog for a walk on our local common. I used crutches as I was still limping but opted for normal shoes. I did probably 5000 steps and on my return my ankle started to swell and feel really quite uncomfortable. I spent the evening concerned that I had effed things up royally.
Week 8 – knees over toes
By now I discovered that walking for about 5000 steps in one duration would cause my ankle to swell quite significantly but it would deflate after resting for a few hours. I therefore felt ok walking 8000-10,000 steps over 2-3 walks each day. I also moved from using crutches to Nordic poles.
Also back to knees over toes routine using the modifications well explained in ATG for Life and using The Iron Shin from @rawform_functional_fit to scale tib raises.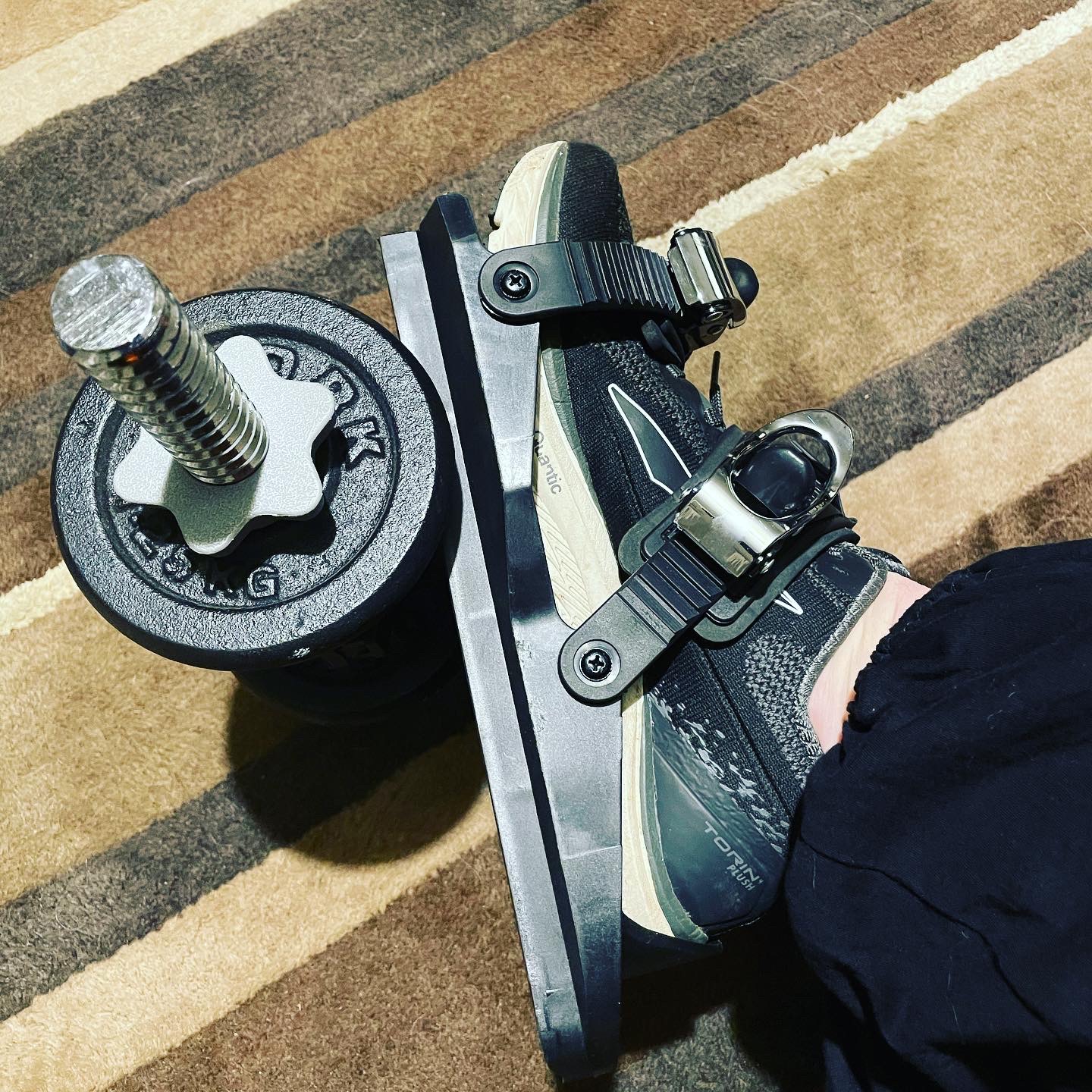 Week 9 – Discharge
I was back at the fracture clinic and had been determined to walk in unaided. The doctor saw me walk and discharged me on the spot which was great news.
His advice was to carry on increasing the load so long as it didn't cause pain in the moment. So that's what I'm doing, walking unaided, mobilising my ankle joints, almost daily ROMwod and performing the ATG Knees Over Toes routine at least 3 times per week.
Week 10 – Ankle Fracture Recovery
I would say that I am almost back to normal now. I am not particularly nervous of slipping while walking on wet muddy slopes and I can even run short distances without pain. The only residual awkwardness is a slight reduction in rotational mobility and pain when pushing my foot into a laced shoe – I still have to unlace my trainers and slide them on delicately. What a pain!
---
Things that Helped my Ankle Fracture Recovery
---
Useful Recovery Resources