North vs South Nike Race Report
Despite about 3 months of excuses and general complaining, both OGB and myself managed to get ourselves to the start line of the Nike 10k Runlondon event. I can't say we were overly happy – we still maintained an air of cynicism which acted as a cover for our fear but we were clearly commited to our chosen form of torture.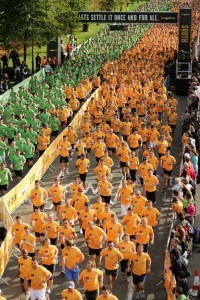 I have to say that Nike really did an exceptional job at organising this event. I nicked this photo from their site but isn't it cool? There were something like 22000 runners separated into waves and divided according to their allegiance to either South or North London (the division being the Thames). I practically live on the south bank of the Thames so I got to wear an orange vest.
I hadn't run for a week because of the recent pain I'd been suffering with in my iliac crest but I dosed up on ibuprofen and set my ipod nano to full blast to drown out any mental suffering. (I snuck that new acquisition into my blog pretty subtley don't you think? After my previous running success with music I felt I absolutely needed to have the musical boost for my run so went out and invested in the nano.) I have yet to try out the Nike + system but then I can't see the need given that I have the super-dooper Garmin forerunner system.
Anyway, if I cut to the chase, I really enjoyed the run. There were so many runners I never seemed to get left behind. There was a little jostling towards the beginning but it was to be expected but the weather was scorching and the spectators and volunteers were great.It was a hillier run than I'm used to and the final stretch was particularly deceiving – I attempted my form of a sprint finish at the foot of a slight incline and so at the end I was threatening to throw up and occupy the handily placed red cross stretcher.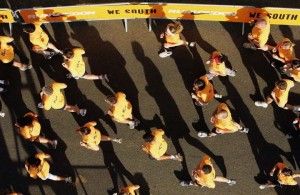 I made it to the finish line but somehow seemed to forget to switch off the garmin.That cost me me nearly 30 mins trying to delete the excess GPS points but it was interesting to see how random my walk was in the 15 mins after the finish. I sort of staggered around wondering if I was ever going to find OGB in the sea of competitors and kicking myself for not participating in the group stretching and warm up. Surprisingly enough my pelvis held up and the pain didn't increase over the course of the run but my quads managed to get themselves shredded again. I could really have handled a pair of crutches at the finish line but they didn't offer those.
So what about the results? I messed the timing up by forgetting to stop the timer on the forerunner but fortunately Nike were really organised with the timing. Within two hours of the event they sent me a text message with the official results: 01:12:44.
I was going to be happy with anything under 75 mins but was aiming for 72 mins. At the 5 k mark I was 200 metres ahead of target but from then on in, my pace started dropping and I had to switch my virtual partner off. There seemed to be nothing I could do at this stage to pick up the pace and having the little running man on my garmin gradually gaining on me just filled me with fear.
Just need to sign myself up for another now. Hope Nike provide one soon.