New Year Planning of Ultra Proportions
I've never been a great fan of New Year's eve, the social pressures generally make me quake with inadequacy. In recent years though I have discovered the joys of New Year planning, preferably to be conducted with a glass of wine and a credit card in hand. You need to be puffed with bravado and uninhibited by sense and reason and then you set to with an event calendar and an internet connection.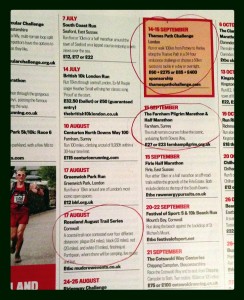 I've been ahead of the game this year and have been creating a list of must-do events to draw upon. I started the eve, circling events of interest and then as the excitement built I moved on to panic purchasing places before other New Year planners had a chance to nick my spot.
Of course it will soon be the day after the night before and I will have to take stock of the damage, assess the implications and start all over again with the planning. I'll have training programs to organise and mammoth weekend run/walks to schedule. I'll have months ahead to panic and wonder whatever possessed me to click the "register here" button.
For now I am still excited.
In 2013 I shall become an ultra runner or at least an ultra run/walker. I have entered the 100k London2Brighton to take place in May. I cycled it a few years back and remember thinking the congestion was so great I could probably walk it faster than cycle – here is my chance to prove myself. So far the intention is to do it solo, so I'm going to have to psych myself up for running across the downs by the light of the silvery moon. I'll be re-reading Moire O'Sullivan's fabulous book, Mud, Sweat and Tears, to get some night time tips and perhaps start by conducting most of my Janathon runs after sundown.
The plans don't stop there though, here's a sample of the most inspiring events for 2013: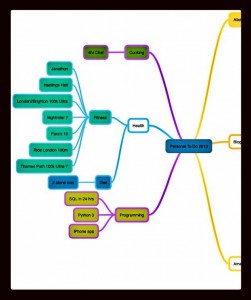 So now, I'm in time to crack open a bottle a champers to greet the new year with the loved one's.
I can save the rest of the planning for the morning, after I've ticked off the first Janathon run of the year. Perhaps then I can concern myself with finding time for the other schemes and challenges I've set aside 2013 to complete.
Happy new year everyone and good running.