I'm nearing the end of the Julia Buckley Fat Loss program with just 2 more weeks of hard graft before I take the final measurements and review the before and after photos.
Julia's program has a very structured training plan but the nutritional aspect has been left much more fluid, enabling the recruits to guide themselves towards a healthy and workable nutrition plan. The food motto for the JBFL program would probably be "Mostly good, most of the time", where good means low in processed carbs.
I started my diet plan with a predominantly Paleo foundation, so immediately cut out bread, pasta, potatoes and sugar. I'm afraid I was following a French caveman who turned out to be a founder member of the Stella Artois brewery and alcohol managed to sneak past my paleo principles.
3 weeks ago I decided to take the plan a bit more seriously and went in search of hardcore Paleo rules.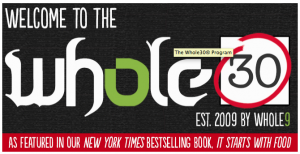 I found the Whole 30.
For the last 25 days I've been following an über strict paleo detox. So that means NO milk, NO alcohol, NO bread, NO sugar, NO pasta, NO grains, NO pulses, NO flour.
I've been living off jasmine tea, eggs, chicken, tuna, veg, fruit and cashew nuts. That's pretty much it. If it weren't for the cashew nuts I'd probably be wafer thin by now.
Its been a struggle. Cutting out milk in my tea turned out to be the surprise challenge. I had a very sulky patch during week 3 – I was bored with the monotony of it all and wanted a god damn beer. I did have a couple of blips in the end. I had two bottles of Mythos at a Greek restaurant and a dollup of Elmlea fake cream with some strawberries. On the whole though, this has been a rewarding and successful challenge.
One of the main ideas of the Whole 30 plan is to detox or get clean for a whole month so you can slowly re-introduce food types into your diet to assess for any intolerances. I don't think I'm bothered much by food intolerances so expect to be able to re-introduce milk and alcohol almost immediately. I hope I've learned something about moderation though.
My intention is to stick to a mostly Paleo inspired diet, the reduction in processed carbs and sugars has freed me from many of the intense food cravings I had and I feel much less of a slave to food. I'm looking forward to a bit more freedom and flexibility though.
If you're tempted by the Whole 30 Challenge I would recommend the following two books "Well Fed: Paleo Recipes for People Who Love to Eat
" and "It Starts with Food: Discover the Whole30 and Change Your Life in Unexpected Ways
" as well as this amazing iPad recipe app, "Nom Nom Paleo" which is a joy to use and includes some really delicious and inspired Whole 30 compliant recipes. Despite having cut out a number of potential ingredients from my diet, with the help of these 3 guides I've actually been incredibly creative in the kitchen, knocking up homemade mayonnaise, Chinese style cauliflower "rice" and a rather special Vietnamese beef dish.