How to make a Cool Impossible Slant Board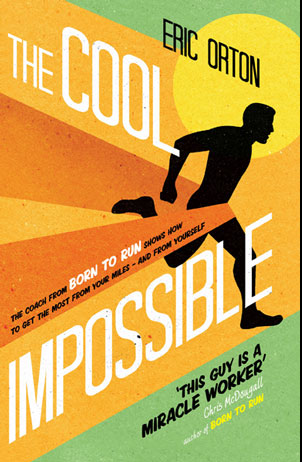 This blog post shows you how to build your own slant board so you can follow the core strength routine featured in Eric Orton's new book, The Cool Impossible.
Eric is the coach from Born to Run
, so he knows a thing or two about running efficiency and injury proofing the body. He uses the slant board in a series of balance and strength exercises illustrated in the book. I've found it quite a difficult piece of equipment to source outside of the USA. He sells his own model through Born 2 Run but it comes packaged with a set of walking poles which makes it quite expensive.
I've channeled my inner carpenter and knocked up my own version for less than £4.
My inner carpenter proved to be a bit of a cowboy so don't look too closely at the photos or you'll feel disillusioned. I can confirm that although my sawing and sanding may be a bit ropey, the overall design is solid and the finished product can withhold 16 stone of balance practice.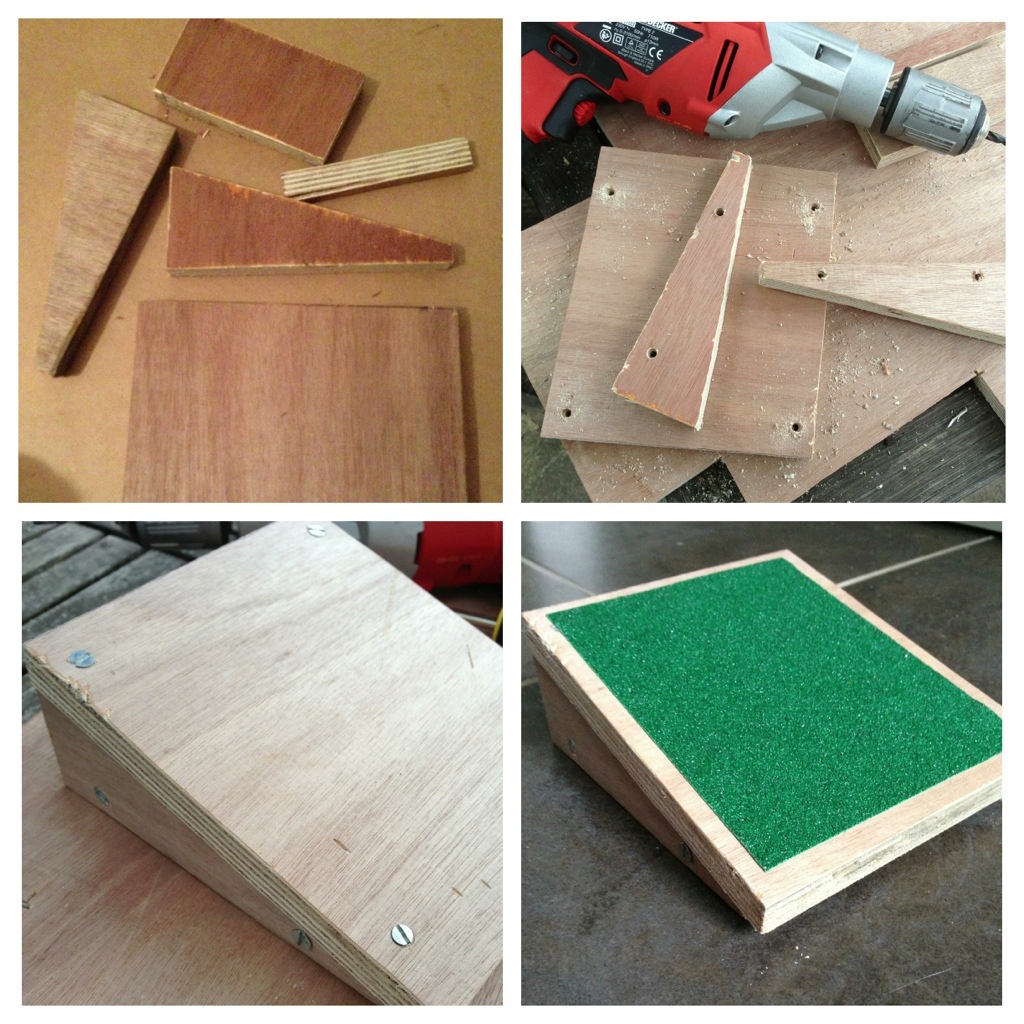 I built my slant board from a slab of plywood found on the street, knocked it together with assorted screws from my toolbox and finished it off with a strip of skateboard grip tape sourced from Ebay for £2.50. I have enough tape left for about 6 slant boards!
The original Eric Orton slant board has a 6″ square base but I couldn't find any details on the angle of the slant. Checking out Amazon for potential substitutes I found that slant boards
tend to come in either 15′ or 22′ angles. I built my first slant board with a 22′ angle but found it to be too steep so used my spare ply to create a more manageable 15′ board.
You'll need to mark up and cut out 5 pieces of wood, 2 sloping sides, a top and 2 supportive struts – front and back.
The measurements I used were:
Top: 15cm x 18cm
Sides: 16cm x 5cm (you need 2 of these)
Back: 5cm x 11.5cm (you might need to adjust the width depending on the thickness of the wood you use – mine is 1.5cm ply)
Front: 2cm x 11.5cm
Here's the view from the underside so you can see how I assembled the support struts (back and front pieces).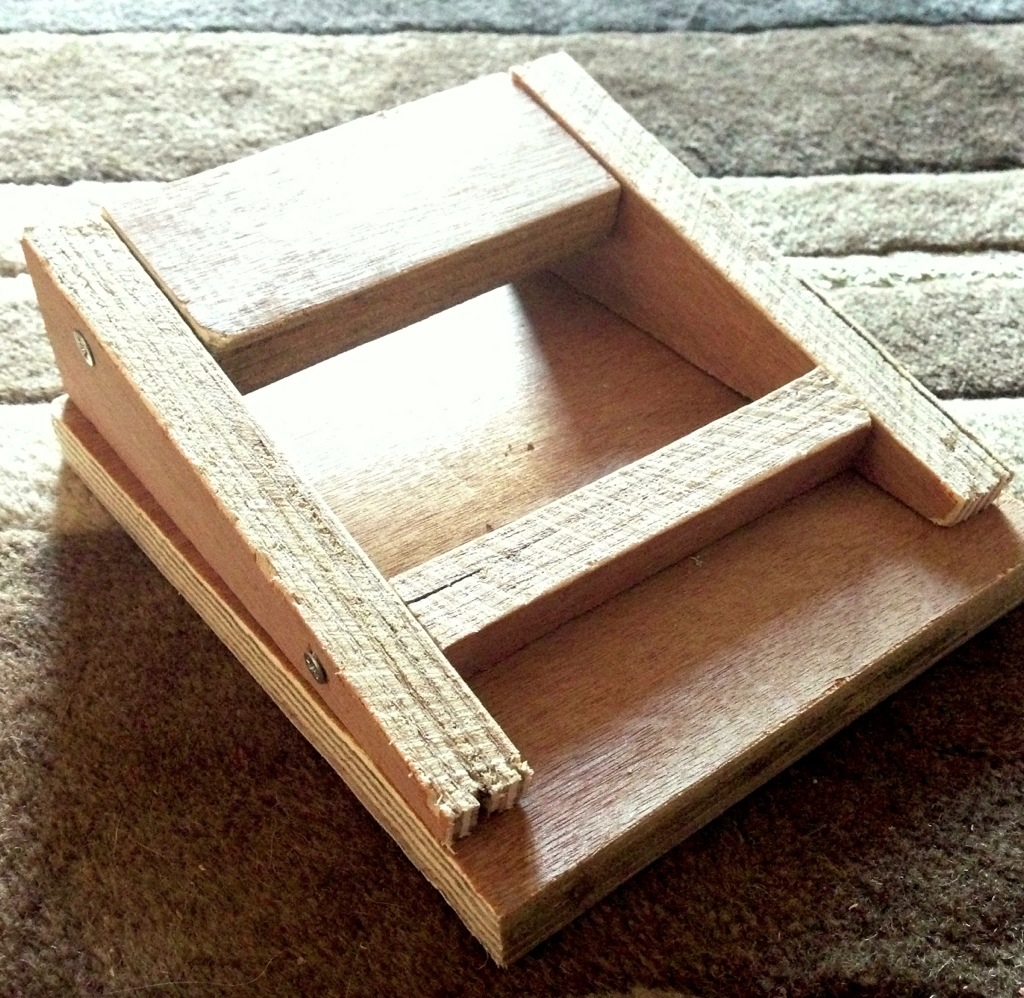 I initially tried to assemble the pieces with a combination of glue and nails but it was a stressful experience, on the second attempt I used the drill which proved to be far more successful. If I'd had the right length of screws it would have been entirely successful, unfortunately the last screw in my tool box was too long and I managed to secure the slant board to my table top!
The Cool Impossible is a very interesting book, offering all comers, the chance to reach their running goals regardless of their starting point. He achieved miracles for Christopher McDougall in Born to Run
and I'm very happy to give him chance to repeat the process with me.
When I say the book is interesting, I probably mean it is odd. It starts off as a bit of a make-believe travelogue. Eric has the reader "pretend" that they have just landed in Salt Lake City and then travelled down to Jackson to join a face to face coaching week.
You grab your bag, running shoes dangling from the handle, and exit the plane directly onto tarmac. You take a deep breath. The air is exhilarating and the sky astoundingly wide and close. As you follow the concrete path toward the terminal, you turn to look at the mountains, and its like they're right there in your face. Your eye traces the wild, zigzag lines of the peaks – dominated by the central massif, the truly majestic Grand Teton – and follows the canyons cutting up in deep, dark Vs between the rises. You try to imagine running there, following a trail up to the Teton Crest. It seems like another world. Another you, perhaps.
I can't say I like the style but as I'm in the planning stages for another US road trip, I've probably cut the tourist sales pitches a bit of slack. When you cut through the style to notes on running form, strength routines and running programs the book does really come into its own.
Slant Board Balance Exercises
The balance exercises start with hiking pole assistance. You work the 3 different foot positions, Uphill, Downhill and Forward initially with two poles. When you can hold each balance for 2 minutes comfortably you will move to one pole balance exercises and then the no pole exercises.
Slant Board Movement Exercises
At the same time as the balance poses above, you will also conduct some movement routines, again with two poles for beginners.
Side Lift – conducted with feet in Uphill mode
Frog Lift – with feet in Downhill mode
Knee Lift – with feet in Forward position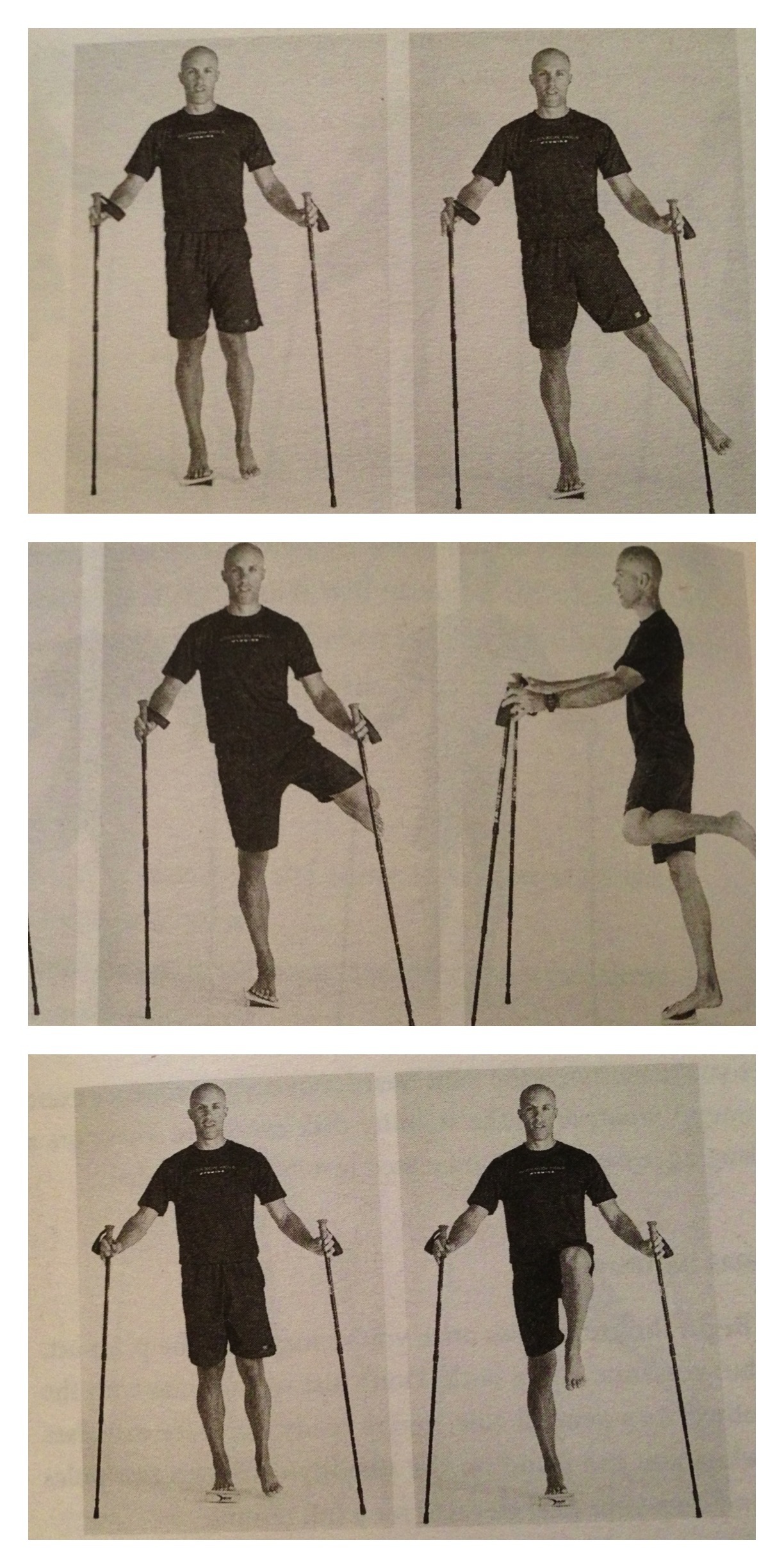 In addition to the strengthening exercises there is a fully customised 20 week running program designed to help you reach your own Cool Impossible. The customisation involves specific heart rate and speed zones which are determined by your performance in two preliminary tests – the mile run and the 20 min steady state run. I've never really invested much time in heart rate zone training but my interest has been piqued and I'll be working out my zones over the next week so I can embark on the full Cool Impossible program.
I'm excited to embark on this core strengthening program and I'm hopeful that it will be the perfect supplement to my Running School practice. At the very least the balance practice should improve my sock dressing performance which is a little wobbly at best.