How to Set up the Perfect Garden Gym
The Home or Garden Gym is a perfect solution for people who are self-motivated and happy to workout alone. The at-home convenience means you can prep a family dinner between sets and you never need to worry whether the squat rack will be occupied by a big fella.
UPDATE and now in these crazy COVID19 times, the home gym is proving to be a sanity saver for those in self-isolation or quarantine. I've updated my post to show how the garden gym has weathered but also to share some alternative ways to stay fit at home.
For the price of an annual gym membership you can build up a pretty snazzy home gym. You don't need to buy it all at once though. Most of the gear in my garden gym has been acquired piecemeal and while I can't resist the lure of new clobber, you don't need it all to start making significant strength gains. I've made some suggestions at the end of the article about how you might want to amend your home gym setup, depending on your budget.
Garden Gym vs Home or Garage Gym
The considerations here relate to the weather and the terrible toll it can take on your kit. My home gym is a garden gym and I don't have any cover to protect my weight plates or indeed any of my kit. After a year of exposure to the elements they are showing signs of significant decay.
UPDATE It's actually been four years now and all my original kit is still in action. Some of the plates look rusty, the weight may no longer be precision accurate but it's still heavy and they still slide on and off the barbell.
The most important piece of kit I have is the power rack and as this ensures my safety while training alone I can't accept any rust related failures and have therefore had this galvanised. It still looks as good as the day I bought it.
Everything else is in a slow decline and I have accepted that my bar and plates will need replacing eventually, in the meantime I spray regularly with WD40, like I used to do with my motorbike stuck outside in all weathers.
I have noticed quite a difference in the way my different plates stand up to the weather and will make sure every new plate I buy is plastic coated. These rubber tri-grip weight plates are excellent, the grip style is really convenient for carrying and they seem very durable so far.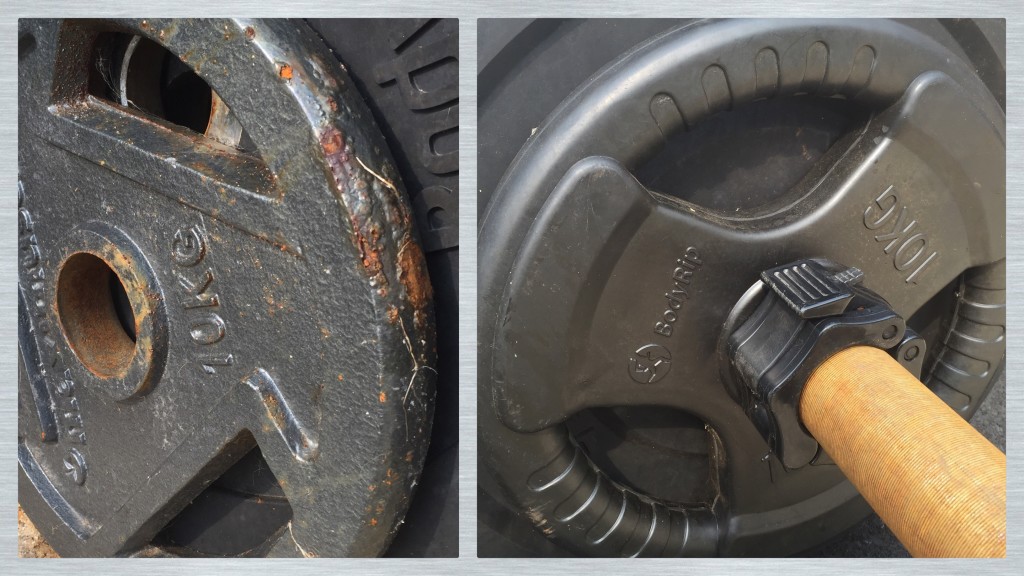 Weathering of weight plates
You might also be concerned about the effect that the weather has on your ability to train but as strength athletes I reckon we are made of stern stuff and enjoy the challenge of inclement weather!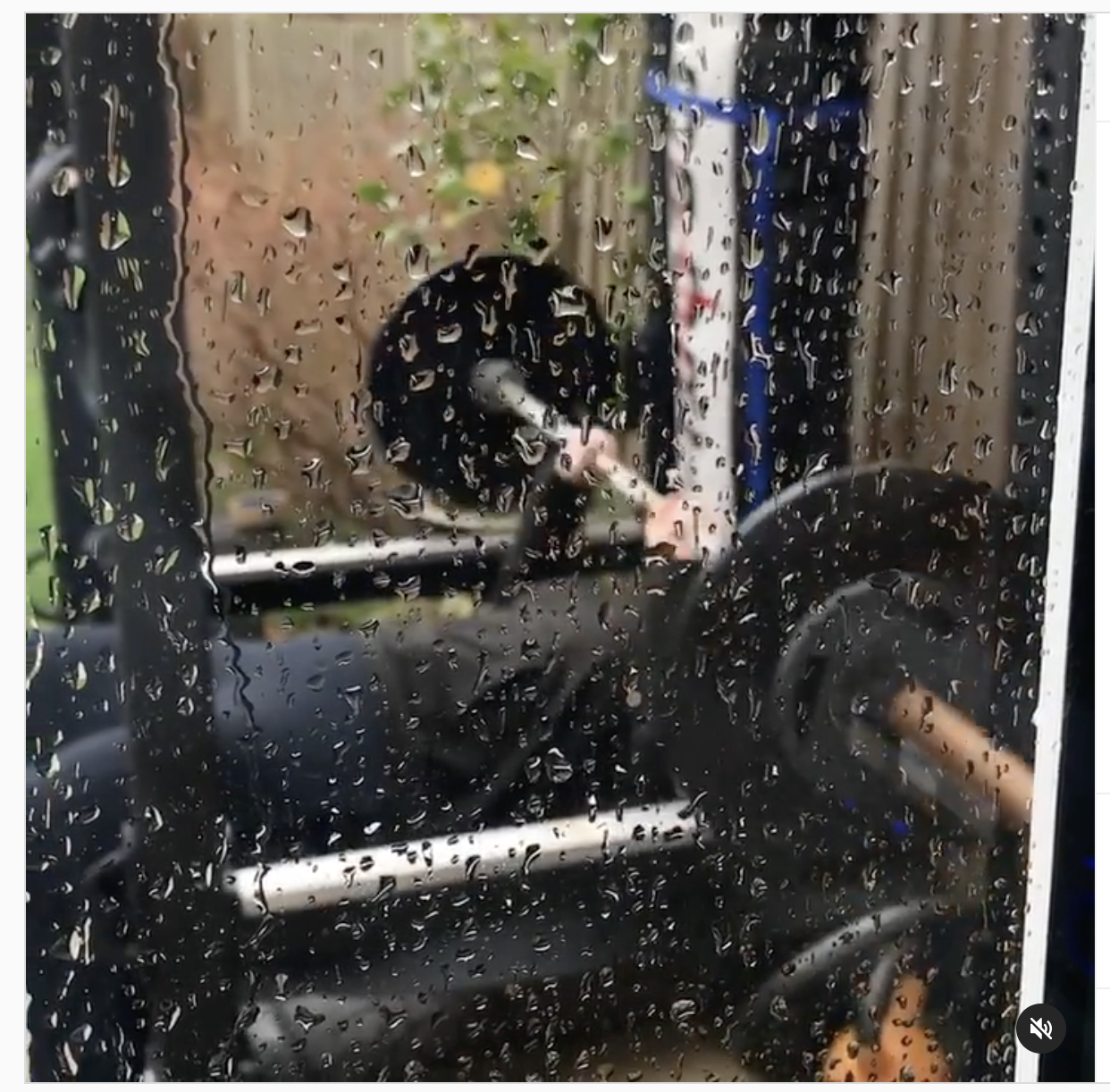 Much as I enjoy exercising in the fresh air and there's a certain romance about bench pressing while looking up at the stars, if I had the option I probably would set my gym up under cover. A garage gym would be ideal. You could take some of the kit outdoors to warm up on a fine day without worrying that your kit will disintegrate between seasons.
Garden Gym for £1000+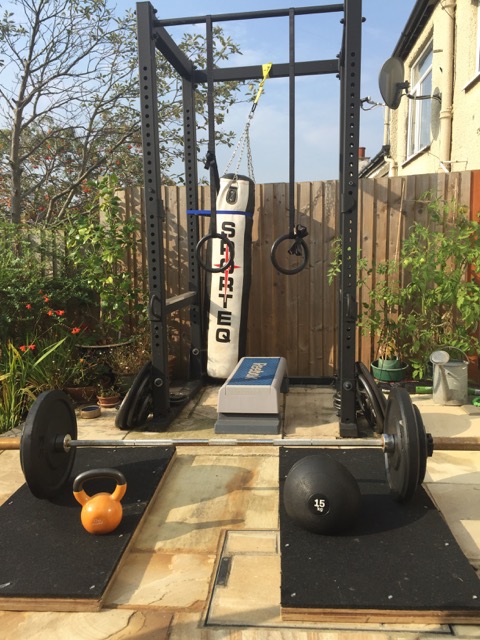 Garden Gym
Full power rack – for safety and flexibility – £400+. As mine sits outside I had it galvanised which adds about £500 to the price.
Barbell, collars and weights – you can spend almost limitless amounts here but you can get a selection from £200-£250
Bench – £50+
Kettlebells – £20+
Slam ball – £30 for a 15kg version
Truck tyre and sledgehammer – we found the tyre in a skip and everyone has a sledgehammer in the shed. Great warm-up activity and who doesn't feel great after flipping a tyre
Olympic lifting platform – for protecting the patio when deadlifting or trying olympic lifts. If you buy a proper one you will soon blow your budget. I made my own from plywood and rubber horse stall matting that I found on eBay.
Sandbag – for recreating that crossfit experience at home
Weightlifting app – free
The power rack forms the staple of my garden gym. It means I can squat and bench without the need for a spotter but I can also practice pull-ups and suspend no end of gadgetry from it to enhance my options. I have olympic rings, a trx style suspension trainer and a punch bag that I found on the street. It's all a bit overkill but its fun if you have a short attention span.
I've tried a number of apps.
Stronglifts 5×5 is clean app and is a great program for beginners
Strongur is probably my favourite but not quite as user friendly as some of the others.
Big Lifts 2 is my current favourite as it allows you to switch programs and its the best I've found for Weider 531 training
Freeletics Gym is a fun way to bring crossfit style routines into your home gym but it often calls for the use of a rowing machine as well as a barbell
Garden Gym for £500
Half Cage Squat Rack – deals abound but the Bodymax squat rack usually goes for £250
Barbell, collars and weights – £200-£250
Bench or step – £50 I happen to have a Reebok Step lying around so use this for bench press. Probably not ideal if you are benching huge weights.
You are not as safe with a half rack as the full powerrack so you may still need a spotter, although I see loads of people using these in the gym and at home on their own – just don't go crazy with your increments. You can adjust the supports so it is fit for squats and bench press. Most also have chin bars and you can easily anchor stuff like TRX suspension trainers or Olympic rings.
Old School – Cheap as Chips Training
I love these old school swinging exercises, so good for shoulder mobility and whole body strength and fluidity. It was my lockdown challenge to myself to be able to swing a pair of clubbells with grace. I can certainly swing two clubbells but the grace bit needs a lot of work…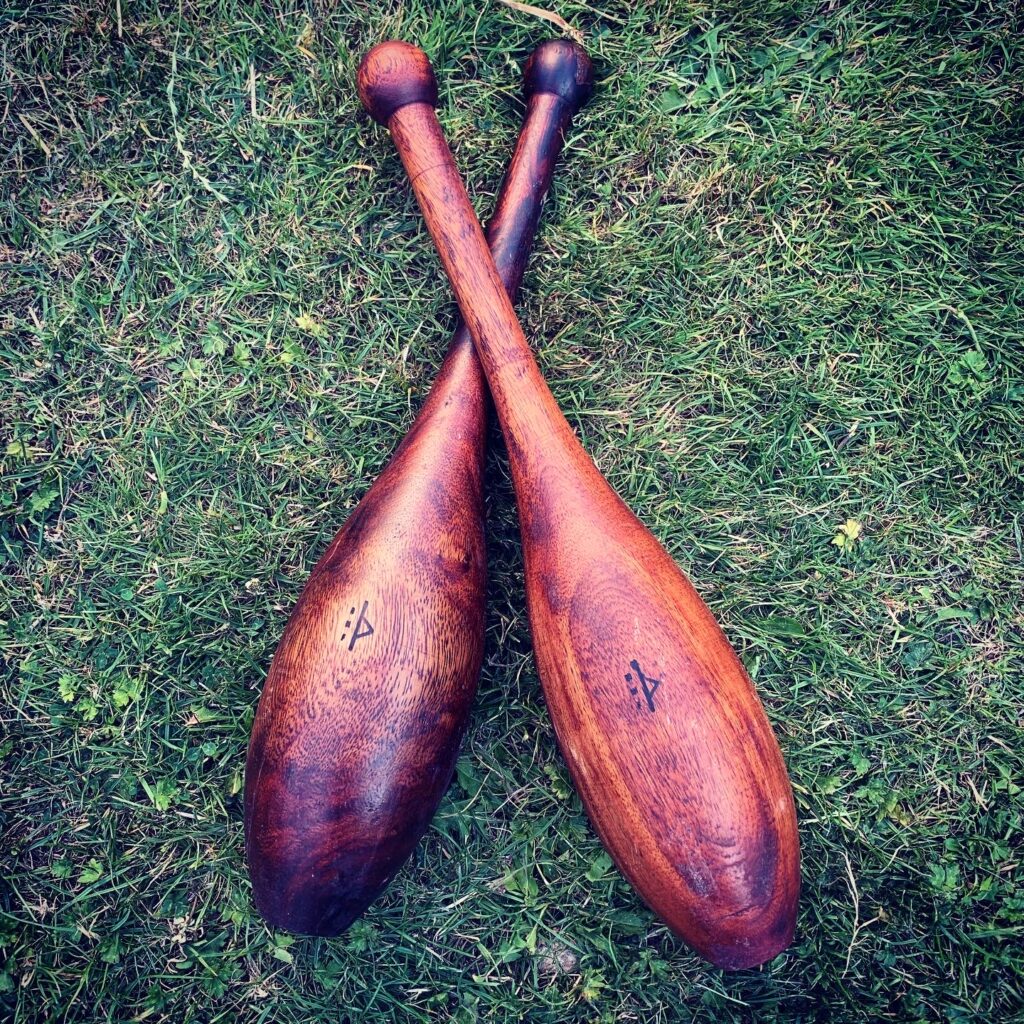 Indian Clubbells from BodyMindFit
Once you've made your implements I suggest heading to the following sites for free demos and training tips:
Remote Training Options
Since the chaos of covid there have been a number of new opportunities for at home training, some of the most exciting from my perspective have been the explosion of remote training sessions. I've had exposure to some really excellent training instructors who have come 'virtually' into my home, to show me how stuff works. I've recently started training with LittleTank who offers extremely good value remote sessions based around bodyweight, kettlebell and mace. I can't recommend her enough based on her expertise, generosity and responsiveness. You just need a subscription and a kettlebell.
Peloton for Fair Weather Trainers
So the Peloton indoor cycle trainer doesn't really fit that well into my post on a garden gym setup but it is an excellent at home training option if you are not short of cash….
It's expensive but I can't deny that I love mine.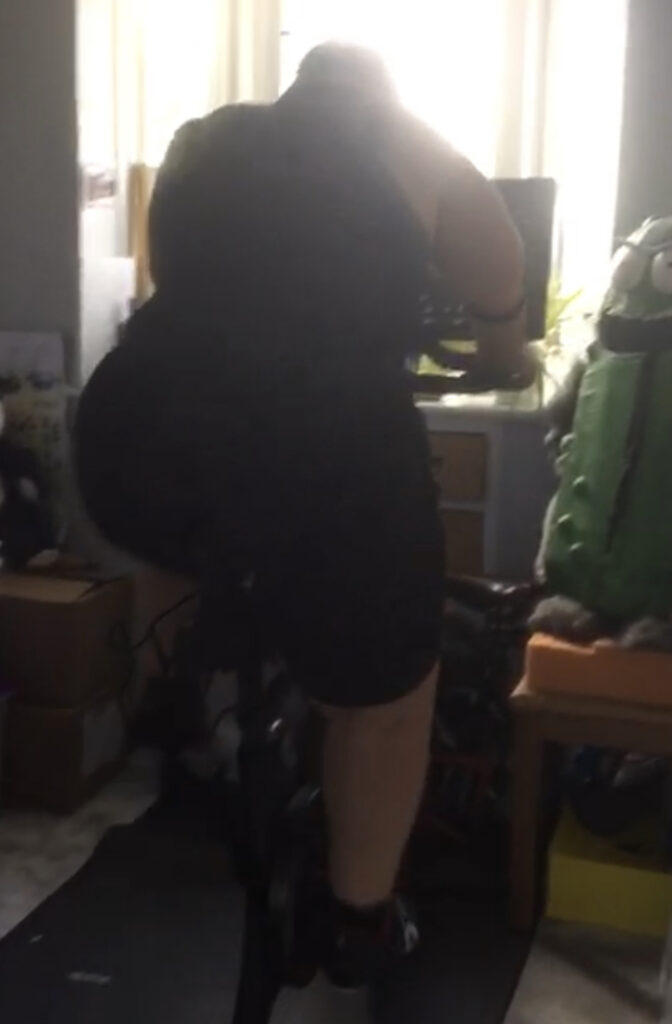 Grunting my way through an FTP test on the Peloton
The bike is £2000 (more or less depending on accessories) and then you need a £39/month subscription. I can offer you a £100 referral gift (quote PR8XV9) towards accessories but its still a shocking outlay.
Having said that, the monthly cost of bike and app is comparable to a gym membership and you have immediate access to some exceptional instructors and a very impressive piece of kit. I've spent much of lockdown taking part in a Power Zone challenge where I work almost solely on power based sessions varying from 30 to 90 mins.
Since I got my bike back in Oct 2019 I have seen my Functional Threshold Power (FTP) score increase from 147 to 191 which is a 30% increase. The very fact that I can measure this performance gain excites but also its a very clear indication that I am actively making myself more resilient which is a very pleasing outcome in the middle of a pandemic.