Does a comfortable Peloton bike saddle exist?
One of the few things that disappoints me about the marvellous Peloton indoor bike, is the saddle. Why, when spending £3k on a designer machine, isn't there a comfortable saddle option for women?
The provided saddle is a fairly standard offering but causes me so much distraction during a ride that I've been driven to buy a padded seat cover.
The Zacro ZBS2 Gel Bike Seat Cover (from Amazon) did significantly improve comfort levels so I could ride for 45 mins without despair, but it is ugly as sin and I feel that the extra padding exacerbates the midline pressure on my female squishy form.
Surely there's a saddle out there, designed for a woman's shape that deserves a place upon this fine machine. This article includes quick reviews of the replacement Peloton saddles that I've tried so far on my quest to find the perfect comfortable Peloton saddle for women.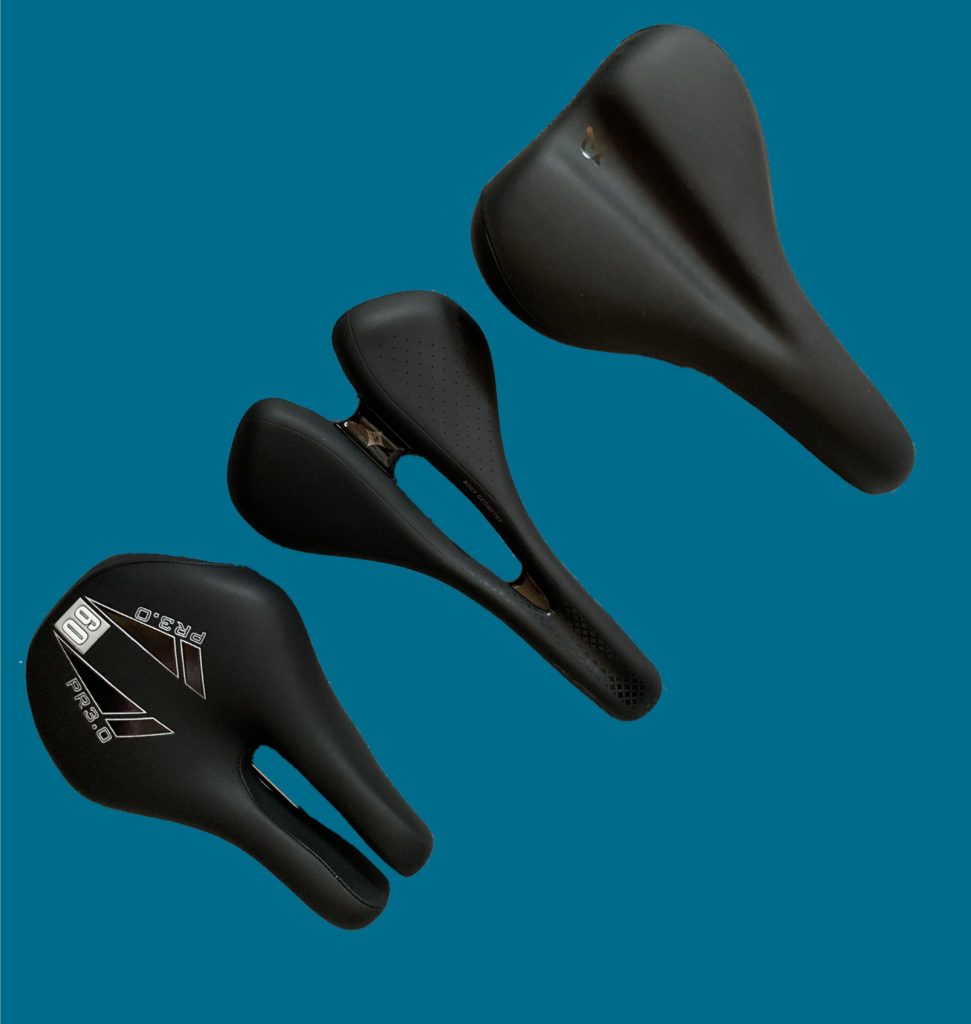 Three saddles battle for place on my Peloton Indoor Bike
Specialized Oura Expert Gel Womens Saddle
First I went for the Specialized Oura Expert Gel Womens Saddle.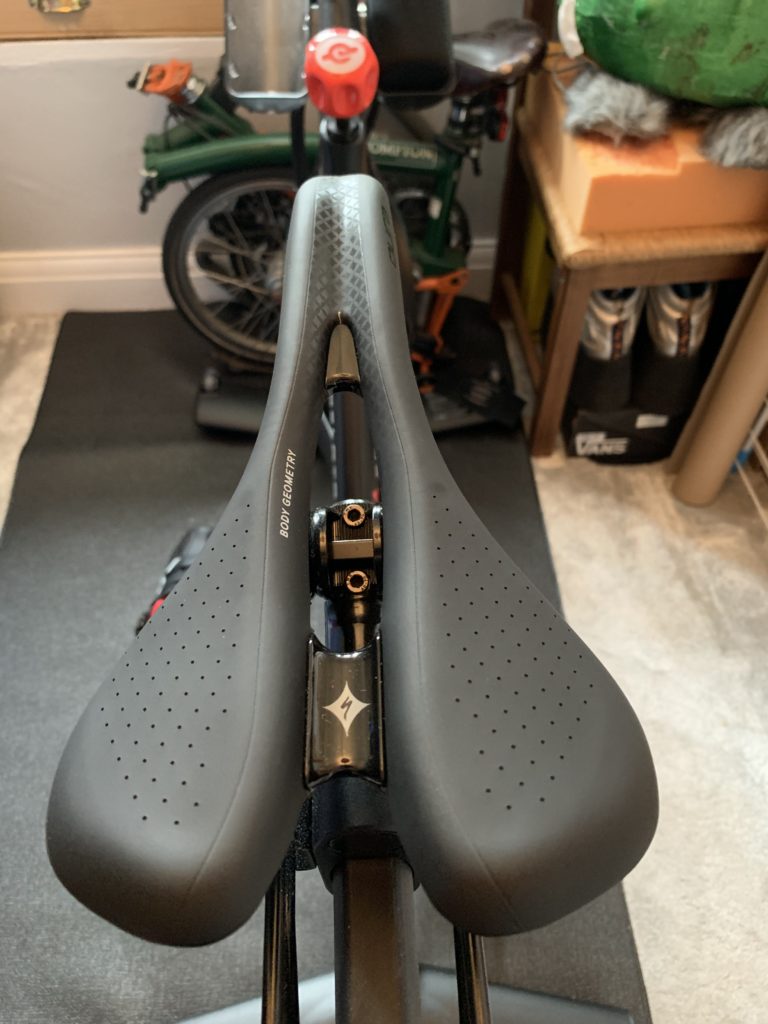 Is this a comfortable Peloton seat? I was attracted to this saddle as it's one of the few saddles specifically designed with the female form in mind.
Given that my main complaint with the original Peloton saddle is midline pressure all the way from front to back, the almost complete absence of a midline in this Specialized saddle looks like it should be perfect for the job in hand.
This is a minimal seat in all regards. Even the seat rails seem to have been scaled back. No matter how tight I turned the wrench I couldn't get the seat clamps to hold this saddle securely in place.
The moment I was instructed to push my hips back mid-ride, the seat flipped up into the Concorde take off position and that is not something I recommend you should ever sit on!
While there was no pressure over my rear midline there was plenty over the front and in addition this saddle was able to achieve something no other saddle has done before:
This saddle managed to hunt through my ample padding, discover my sit bones and then proceed to grind at them in a fury.
I put the padded seat cover back over this after only 20 mins on the ride. I may as well have wrapped it in a bin liner – the teeny saddle is drowned by the cover which flips and flaps around as you cycle.
I'm afraid the Specialized Oura is not a winning saddle.
---
ISM PR3.0 Unisex Saddle
Next up was the ISM PR3.0 saddle (Amazon link).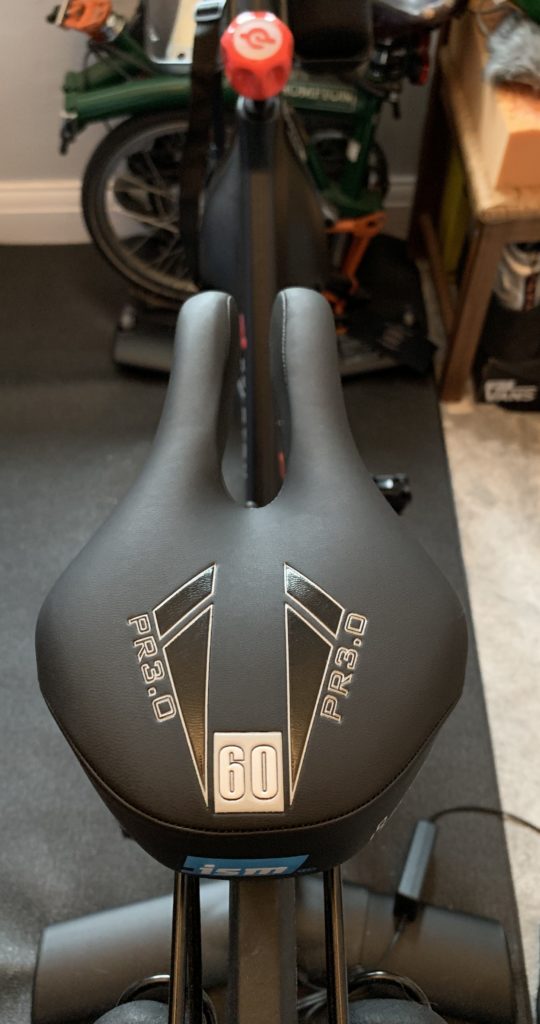 These are odd lookers with their split front ends but I think it owns its place on the Peloton. There are a multitude of ISM saddle versions, I went for the PR3.0 which has slightly more padding than the straight forward performance models.
If you are tempted to try one of these you need to check out the ISM saddle chooser page to help find the right shape for your needs.
It's the sort of saddle that would reward a thigh gap. I don't have one of those, in fact I would probably be regarded as having a negative thigh gap and as a result this saddle feels like I'm sitting on a gymnasts beam.
It cannot be described as comfortable with all the inner thigh pinching but it does reduce the midline pressure on my lady bits and for that I am grateful.
I am still mid quest, I have not yet achieved success in my search for the perfect female specific replacement for the peloton saddle.
I've since received a number of peloton saddle recommendations primarily from the #XXLTribe I haven't tried these yet but I'll add reviews as and when I get the opportunity to try them out. In order of most recommendations:
If you think you've found the perfect, most comfortable replacement saddle for the Peloton bike please let me know in the comments – male or female.